Phelsuma abbotti chekei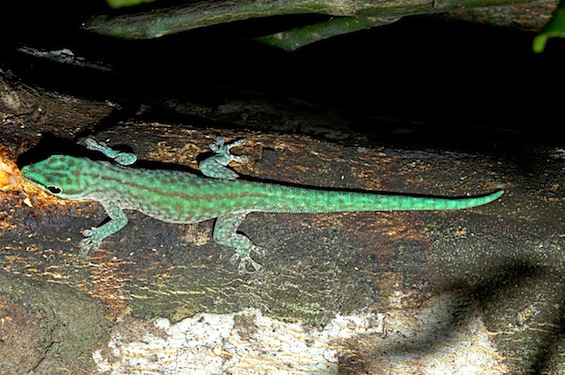 Image © Emmanuel Van Heygen

Description

The coloration of P. abbotti chekei varies from one individual to the other. It ranges from blue to green or grey, with marbled flanks and legs. The dorsal pattern consists of red-brown dots and sometimes a median vertebral line is present. It is a medium sized species that reaches lengths up to 145 mm, the females are generally a little smaller and duller in colouration. Two further subspecies or known; Phelsuma abbotti abbotti (Stejneger, 1893) from the Aldabra Atoll, Seychelles and Phelsuma abbotti sumptio (Cheke, 1982) from Assumption Island, Seychelles.
Distribution

Their distribution range is for a Malagasy form quite extensive, it occurs along Madagascar's western coast from Antsiranana in the north, as far south as Antsalova. Phelsuma abbotti chekei occurs along the north-western coast of Madagascar, including the Ampasindava peninsular and the islands Nosy Bé, Nosy Komba and Nosy Mamoko. The record from Sambava (Eastern Madagascar) is probably incorrect and mistaken for Phelsuma masohoala. The most southern record is from Soalala in western Madagascar and the distribution reaches as far north as Antsiranana (Terra Typica).
Terra Typica

Diégo Saurez (Antsiranana)
Localities
Ambatoloaka, Ambilobe, Antsalova, Antsiranana, Befotaka, Kongony, Mahajanga, Nosy Mamoko, Soalala
Biotope
Phelsuma abbotti chekei is mainly found on large sun exposed tree trunks outside and at the edge of primary forest patches. On Nosy Be and on the Ampasindava peninsula the species is also found in the coastal mangroves and mangrove trees along swamps and rivers. In western Madagascar, in the seasonal dry forests near Antsalova, the animals are found in the larger deciduous trees. In urban areas like Antsiranana and southern Nosy Be, they can be found on houses and in gardens.